Mardles & Vintage Squeeze
present
Playing Together - Workshops for Melodeons
and Other Instruments
NOW OPEN FOR BOOKING
April 13th - Norwich

with Tutors Mary Humphreys and Anahata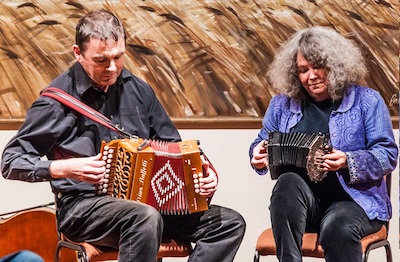 This workshop day is intended for those players who would appreciate the opportunity to meet other musicians and 'play together'. Sometimes it's quite daunting to join in a session if you are used to playing on your own.
The day's tutors Mary Humphreys and Anahata are experienced players and session participants who are able to break down these barriers and guide you through the process of playing with others. They are intending to teach tunes by ear which will enhance listening skills, a necessity when 'playing together'.
The workshop is for melodeons and other instruments and tunes will be in G or D.  The day is not intended for complete beginners but for players of all other levels who would like to become more confident. After a morning workshop of mainly slow session tunes, the afternoon workshops will give you a choice of continuing with session playing or tackling harmonies.
Sheet music and MP3s will be available for Mary's Harmony workshop, and for Anahata's learning-by-ear workshop at the end of the day.
Pete Ward of Acorn Instruments in Yorkshire will be coming for the day and bringing a selection of melodeons.

COST £25.00 - Booking essential
Programme
10.00 - Doors open

10.00 – 10.30  Sign in • Tea and Coffee (supplied)

10.30 – 12.00  Morning workshop: Session tunes - learning by ear

12.00 – 12.30  Lunch - bring your own packed lunches

12.30 – 2.00  Session: Simon & Val Haines to lead

2.15 – 3.30  Afternoon workshops:
1 – Anahata - Morning workshop tunes continued
2 – Mary Humphreys - Two-part harmonies
3.30 – 3.50  Tea break
3.50 – 4.50  Showcase session for all participants – Playing together in the main hall
5.00 – Goodbyes

For those who wish to stay for the evening, early evening supper is available at  Brittania Gardens.
Later in the evening there will be a session at Wensum Community Centre, which has a bar.  Both venues are within 3 miles of St Luke's.
Venue
•  St Luke's Church, 61, Aylsham Road, Norwich, NR3 2HF

Getting there:
•  St Luke's is about 3 miles from Norwich Railway Station. There are bus stops outside the church.


Parking
•  There is a car park behind St Luke's. Look for the sign to Edmund Bacon Court beside the main building.
    (There is also parking on Aylsham Road but this is restricted to 4 hours.)

Accommodation
•  Anyone wishing to find accommodation for the weekend in Norwich can find information here.

Further information from Valerie Leggett This email address is being protected from spambots. You need JavaScript enabled to view it. / 01603 482987

 Booking Form here