Compiled by Ricard Brazear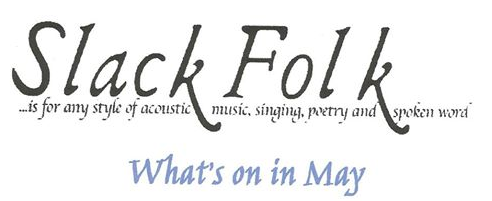 On Thursday 2nd May, Paul Hayes will be the headline performer at the Wivenhoe Folk Club, at The Royal British Legion, The Quay, Wivenhoe, CO7 9BX. Paul has been writing, performing and recording his music – a mix of his own interpretation of traditional folk songs and his own self-penned songs with a traditional feel – for many years, delighting audiences at clubs and festivals . And, of course, there will be the regular floor spots. Admission £7.00 / Concessions £6.00 / Floor Spot Performers £3.00. Doors open at 7.30 for an 8.00 pm start. You can always get the latest Folk Club news at www.facebook.com/wivenhoefolkclub.
The 2019 Cosmic Puffin Festival is taking place from Friday 3rd May to Monday 6th May at Mersea Youth Camp, Rewsalls Lane, Mersea Island, CO5 8SX. With over 100 bands spread over seven stages, it promises to be an outstanding / unforgettable weekend. For information on tickets, camping, stages and performers, check out http://www.cosmicpuffin.org.uk.
The next Hadleigh Folk and Acoustic Music Nights will be at The Ansell Centre, Market Place, Hadleigh, Suffolk IP7 5DU on Friday 3rd May. The main guest is Dick Miles, a singer and musician who used to live in Suffolk but now lives in Ballydehob a village in southern Ireland. Dick plays concertina, guitar and banjo. The featured guest is Jeremy Harmer an excellent singer-songwriter from Cambridge. Entry price is £5.00. (£2.00 for under 16s). Doors open at 7.45 and the music starts at 8.00 pm. There is plenty of free parking within easy walking distance of the venue. For further information, contact club organisers Simon or Val Haines on 07818 417780 or 07818 417781 or email This email address is being protected from spambots. You need JavaScript enabled to view it..
On Sunday 5th May, Colchester Arts Centre Jazz Club present 'Remembering Reg Webb' - with special guest Nik Kershaw at Colchester Arts Centre, Church St, Colchester, Essex CO1 1NF. When Reg Webb passed away last year, we were robbed of an extremely gifted musician who was very modest about his talent - a talent that saw him excel in both popular music and jazz. This is borne out by the diverse range of artists Reg worked and recorded with and his many and various bands, including the Reg Webb Trio, and Fusion, comprising Reg, Kenn Elson on bass, Alan Clarke on drums and Nik Kershaw on guitar. Reg was one of the acts at the Jazz Club's 2016 Relaunch Night, when his trio later accompanied guitarist John Etheridge. He also sat in with the late pianist / singer Janet Seidel and last performed here with his most recent jazz fusion group, Reg & The Readers. This fundraising concert features many of the area's top musicians who performed with Reg over the years - including two surviving members of Fusion, Nik Kershaw and Alan Clarke - as they pay their own musical tribute to a fellow musician they revered. Expect to hear everything from standards and originals, to jazz fusion - plus a few of Nik's hits. There is a possibility there may be a few more surprise guests as the date draws closer, so watch out for further announcements... All the performers have generously waived their fees, to help raise as much money as possible for cancer charities in Reg's memory. Line-Up: Fusion Legacy, Reg's Readers, Crissy Lee Quartet, Frank Weatherley Trio. All Tickets £14.00. Jazz Express not available for this concert. PLEASE NOTE EARLIER START TIME: Doors open 6.30 pm, starts 7.00 pm.
Tickets for all events at Colchester Arts Centre can be booked on line or by telephone [01206 500900]. For more information, go to https://www.colchesterartscentre.com/how-to-book/.
On Monday 6th May, Flook will be performing at Colchester Folk Club, Colchester Arts Centre, Church St, Colchester, Essex CO1 1NF. The flutes of Brian Finnegan and Sarah Allen, the guitar of Ed Boyd and the bodhran of John Joe Kelly weave and spin traditionally rooted tunes into the breath-taking sound of the ground-breaking band Flook. This group possesses a rare blend of fiery technical brilliance, delicate ensemble interaction and a bold, adventurous musical imagination. Since 1997, Flook have produced a succession of outstanding albums and have captivated the hearts of their audiences with the quality of their music and the sheer enjoyment they bring to playing together. Over the years, they have developed a reputation as one of the most exciting and innovative bands to emerge from the English/Irish folk scene, winning the coveted award for Best Group at BBC Folk Awards 2006. Flook announced that they were taking a prolonged pause from live performance at the end of 2008, but, due to overwhelming popular demand, they're now back, with a new album under their belts, and firing explosively on all four cylinders. Tickets £15.00 / Concessions £14.00. Doors open 7.45 pm.
Also on Monday 6th May, it's Nick Gustard's Open Mic Night at the Black Buoy, Black Buoy Hill, Wivenhoe, Essex CO7 9BS, starting at 8:00 pm. Entry is free. Artists, please get there in good time to be sure of a spot as the list is compiled as you walk through the door. If you're coming to listen, then be early to make sure you don't miss anything. This month's showcase is Sam Young – a songwriter and guitarist with a great voice. For anyone travelling by car, there is limited parking behind the Black Buoy or a public car park opposite the Greyhound pub.
On Thursday 9th May (and the second Thursday in each month), the Witham Singaround will be taking place, from 7:30 - 10.00 pm, at The Little Elms Public House, Dorothy Sayers Drive, Witham, CM8 2LX, at one end of the restaurant space. The Witham Singaround is a relaxed and low-key evening - good for trying out new things. All levels are welcome, with or without instruments, Entry is free. For more information, email Ian on This email address is being protected from spambots. You need JavaScript enabled to view it. or ring Joan on 07967 125514.
SlackFolk is on Saturday 11th May, between 2.00 pm and 4.15 pm, at the Piatto Café, 17-19 Priory Walk, Colchester, CO1 1LG, at the corner of Queen Street and the Priory Walk pedestrian precinct. Coffee, tea and food are available at commercial prices. Entry is Free. The May SlackFolk session will feature music from Positively Dylan - Three outstanding musicians with their interpretation of the songs of Bob Dylan; Peter Melhuish - Rocking acoustic music from a gifted singer, guitarist and songwriter; Will Ginno – An accomplished singer / songwriter from Sudbury, who performs on guitar and piano; Felix Stowaways - The ultimate buoy band, singing sea shanties, work songs and songs of the sea; and Dave Rado - An authority on the history and derivation of folk song, with a session of a capella community song to join in and enjoy. SlackFolk presents a platform for acoustic solo artists, bands and poets to showcase their material and offers everybody a chance to escape the chores of Saturday afternoon and to hear some great local acoustic music and poetry. All are welcome and entry is free. For more information, go to http://www.slackfolk.co.uk or contact This email address is being protected from spambots. You need JavaScript enabled to view it..
On Monday 13th May. Fara will be performing at Colchester Folk Club, Colchester Arts Centre, Church St, Colchester, Essex CO1 1NF. Fara brings together four emerging musicians at the forefront of today's young Scottish folk scene, Jennifer Austin, Kristan Harvey, Jeana Leslie and Catriona Price's three fiddles and a piano, to produce a fiery sound rooted strongly in their upbringing among the music of Orkney. Vibrant arrangements full of rich harmonies, energetic fiddle playing and driving piano, with a mixture of self-penned and traditional Orkney tunes as well as stunning vocals. The girls' combined musical experiences and friendships produce an exciting and individual sound. Supporting them will be Angela Dennis - a veteran performer at Colchester Folk Club and other venues in the Colchester area. She is also a community musician, running various singing groups and choirs, and performing self-penned, traditional and contemporary songs on voice and guitar, both solo and with others. Tickets £14.00 / Concessions £12.00. Doors open 7.45 pm.
On Wednesday 15th May (and the third Wednesday of each month), there's an Unplugged Music Night at The Kings Arms, Main Rd, Frating, CO7 7DJ (run by Ian Butler and Phil Dulieu). The sessions are open to people who want to perform and those who just want to listen. Entry is Free.
On Thursday 16th May (and the third Thursday of each month), the Brightlingsea Acoustic Night, will take place at the Cherry Tree, 29 Church Rd, Brightlingsea, Colchester CO7 0JF, from 8.00 to 11.00 pm - run by Bill Kitchen and Frank Goodwin - admission is free, just bring yourselves and your music.
On Monday 20th May. John Doyle will be performing at Colchester Folk Club, Colchester Arts Centre, Church St, Colchester, Essex CO1 1NF. John Doyle is a highly influential performer – singer, songwriter and guitarist – noted for his collaborations with stars of the folk scene in his native, Ireland, the United Kingdom and America and for his regular appearances on Transatlantic Sessions. He has played at Colchester Folk Club as part of the outstanding group 'McCusker, McGoldrick and Doyle', but on this occasion he will be playing a solo set. Supporting him will be Karen and Colin Cater – both veteran performers at the club. As well as being one of the folk world's best artists and designers, Karen is a sweet singer, mean banjo player and crisp percussionist. Colin is known for his melodeon and Anglo Concertina playing and has written songs very much in a traditional style. Tickets £13.00/ Concessions £12.00. Doors open 7.45pm.
Colchester Folk Club will then be closing for its summer break, but will be back in September.
Those of you, for whom the late 1970s were still a time for burning wild oats, will remember John Otway & Wild Willy Barrett, who, contrary to all expectations, are still performing. On Thursday 23rd May, they are playing at Colchester Arts Centre, Church St, Colchester, Essex CO1 1NF. The Arts Centre, in recognition of the potential age of some attendees advise "This gig is for a seated audience". Their magnetic bond still holds after more than 40 years of attempted escapes and they are still loved for their total in-yer-face originality: the contrast between the dead pan humour of Barrett and mad onstage antics of Otway are hilarious to watch. Enjoy John's lyrical genius and Willy's outstanding musicianship (he seems to play almost every stringed instrument known to man, plus a few hybrids of his own making!). For any Otway/Barrett virgins out there who don't know what to expect, be prepared for everything from bare-chested theremin playing to wah wah wheelie bin as the duo jump from one hit and forty near misses to another. An amazing and irreverent performance by two master entertainers. Tickets £15.00 / Concessions £13.00. Doors open 7.30pm.
On Sunday 26th May, The Warm and Toasty Club, the live variety show quite unlike any other, is back at Colchester Arts Centre, Church St, Colchester, Essex CO1 1NF, with their second show in celebration of their current project Memory Afternoons. This is a show for all ages that shows off the best of the people in our lovely town and in the East of England. Join host Johnno Casson (a.k.a Snippet) and guests for an afternoon of beautiful live music, charming chat, film premieres, hilarity, memory songs and poetry, good community feeling, Biscuit of the Month, the return of the Cheeky Retro Raffle and free hot buttery toast for everyone. Johnno's guests will be Matthew Crampton - Folk singing maestro and storyteller with a suitcase full of music hall favourites; Piers Harrison-Reid - One of the best performance poet's in the East bringing his fresh and insightful take on the people of Memory Afternoons with specially commissioned Memory poems; Cliff As If - Wonderfully engaging Cliff Richard tribute act singing songs you'd forgotten you loved; AnnieMation - A merry band of dancers and musicians who make up Colchester's very own North West Clog Morris dance team; Mia Standen – a talented young singer/songwriter singing a specially commissioned Memory song; Anna Bruce - A debut for a gifted Colchester singer/songwriter with a voice to melt your hearts with a specially commissioned Memory song. All Tickets £5.00. Doors open 1.30 pm, show starts 2.00 pm.
Also on Sunday 26th May (and on the last Sunday of each month), there's Jazz at the Queen Street Brewhouse, 7 - 9 Queen Street, CO1 2PG Colchester, from 5.00 pm to 7.00 pm with The Good Times Jazz Band. vocalist Helene Buck. Lazy afternoon trad jazz with a Belgian beer or two in one of Colchester's most curious pubs - what's not to love?
On Thursday 30th May (and the last Thursday of each month), it's the Acoustic Music Night (without PA) at The Cross Inn, Ardleigh Road, Great Bromley, CO7 7TL (organised by Jim Craddock and Lesley Broadbent). The sessions have a different presenter each month. Whether you want to perform or just enjoy the performances, just turn up, let the host know if you want to play, and enjoy yourselves. Entry is Free.
On Friday 31st May, it's the Open Mic Night at the Cricketers, Spring Lane, Fordham Heath, Colchester, CO3 9TG, starting around 8.00 pm. The sessions are run by Hazel and Graham Cronin. Come along and join them. You are guaranteed good music in a comfortable setting with an outstanding array of great local performers.
There's a lot more happening in and around Colchester than I ever get to mention. To find out what's happening today in Colchester, can I recommend to you the hardworking and reliable web site 'Keep Colchester Cool' - http://www.keepcolchestercool.co.uk/.
Enjoy your musical month.
Richard Brazear
This email address is being protected from spambots. You need JavaScript enabled to view it.
07850 773291