The Finn Collinson Band – Seagull Theatre Pakefield – Sunday 28th November
Dynamic English folk music for the 21st Century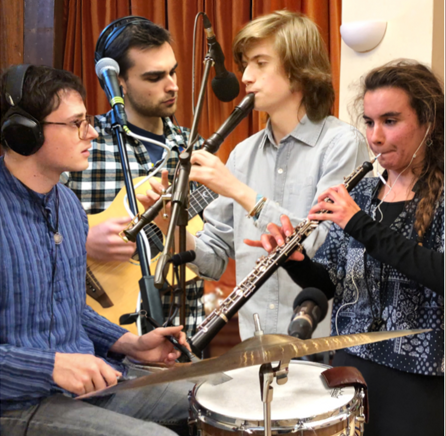 Fronted by Finn's distinctive tune-writing and trademark recorder style, the band has been gaining a strong reputation on the folk and acoustic circuit since the release of Finn's acclaimed debut album 'Call To Mind' in 2019.
Finn (recorder, guitar, bouzouki, mandolin, vocals), Aaron Horlock (guitar, melodeon), Evan Carson (percussion) and Emma Beach (oboe) are 4 accomplished young musicians who introduce subtle effects and intricate layered sounds while maintaining a strong focus on acoustic instrumentation, creating a powerful sound.
Expect contemporary tunes and songs taking inspiration from Finn's native East Anglia together with re-imaginations of traditional and early material that presents centuries-old dance tunes as they've never been heard before.
Finn has steadily been cementing a position as one of the foremost exponents of the recorder on the English folk scene since 2017. He was shortlisted for the BBC Young Folk Award in 2018 and has appeared at many major UK festivals including Sidmouth and FolkEast.
With music that will make you want to dance in the aisles and also pause for reflection, the Finn Collinson Band are sure to enthral with their energy and diversity.
"Exceptionally well executed folk rock" - Spiral Earth
"The kinship between music and place is strongly present…." - The Living Tradition
Tickets are £9/£8 (conc) and are available from the box office (01502 589726) or from www.theseagull.co.uk 8.00 p.m