MADDY SPANS THE YEARS
FOLK legends Steeleye Span are in a celebratory mood as they are about to set off on a 20-date UK tour to commemorate their 50th Anniversary!
Many members have come and gone, but vocalist Maddy Prior is still there, as she was back in 1969.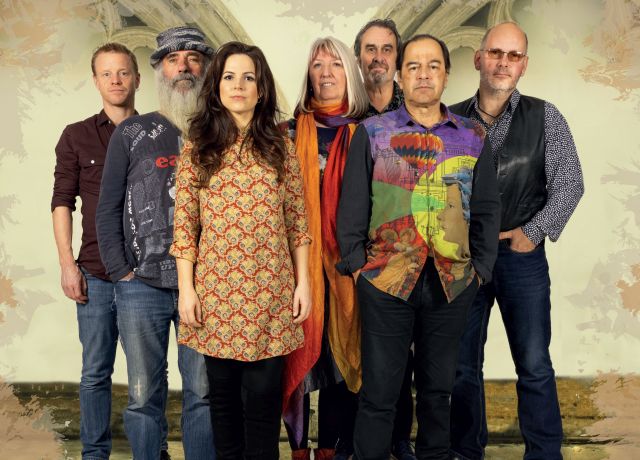 Speaking at her home, Maddy, expresses an unusual emotion about the milestone."Surprise more than anything," she says. "Nobody sets off intending to last 50 years."
The band originally followed a strict 'folk' sound in their early years with the distinctive vocal frontline of Maddy and the late Tim Hart, until a change of management saw some changes in the style and appeal of the band. Violinist Peter Knight and guitarist Bob Johnson joined, both filling out the vocal sound and supplying great song-writing and arranging skills.
The band signed to Chrysalis Records and enjoyed their first hit during the Christmas of 1973 with Gaudete.
As the band were now heading in a more mainstream direction, Nigel Pegrum was brought in as a drummer and the 'Now We Are Six' album was released. The album was produced by Chrysalis label-mate Ian Anderson of Jethro Tull and featured David Bowie on Alto Sax on To Know Him Is To Love Him.
The band had another cameo appearance on the next album 'Commoners Crown' as Peter Sellers played ukulele on the track New York Girls.
The BBC gave the band their own six-part TV series in 1975, showcasing their sound and, although it was very popular (shown mid-week at about 7pm), Maddy isn't as impressed these days. "I saw one of them not long since," she tells me. "It was like watching paint dry, the pace was so slow."
It did the trick though and the band's next album 'All Around My Hat', which spawned their second hit single – the title track – at Christmas 1975. This album, and the follow-up 'Rocket Cottage' were both produced by Mike Batt of Womble fane, and led to the members of Steeleye Span donning the Womble costumes for a Top of the Pops appearance!
Both Peter Knight and Bob Johnson left at this point and released their own album 'The King Of Elfland's Daughter' and therefore were absent from Span's 'Storm Force Ten' album, where they were replaced by returning founder member Martin Carthy and John Kirkpatrick. However, both Peter and Bob were back for the Gus Dudgeon-produced 'Sails Of Silver'.
The band's fortunes have fluctuated since with members coming and going; even Maddy left for a few years, but they have continued to seek out old folk songs and arrange them for today's audiences as well as creating original music.
Their albums have included 'Time', 'Horkstow Grange', 'Bloody Men' and 'Bedlam Born'. Earlier this year, they released 'Est'd 1969' which is as good as anything they have ever released and arguably their most commercial sounding set of tracks since 'Sails Of Silver' in 1980.
"The reaction to the album has been really good," Maddy (who was awarded an MBE in 2001 for services to folk music) enthuses. "It's a very cohesive album with a lot of energy. I'm really pleased with it."
After fifty years, Maddy finds it difficult to pick out highlights. "Oh, there's been so many." She says. "It's been a very interesting life and every journey and every gig is different. Some things have been successful and some not. You have to roll with whatever comes your way." "And," she adds. "The music you love underpins it all."
Maddy also admits that there is no album that can be described as a 'definitive' Steeleye Span album. "No, there have been lots of different incarnations. However, the backbone was Bob Johnson's creation of the ballads. The first three albums we did were all different then we became a bit of a rock band – less folk-styled. So there is no 'definitive' album."
These days, Steeleye Span is a septet with Maddy on vocals, Benji Kirkpatrick (son of founder member John), Andrew 'Spud' Sinclair and Julian Littman on guitars, erstwhile drummer Liam Genockey, violinist Jessie May Smart and bassist Roger Carey.
For the 50th Anniversary tour, Maddy says that some of the new album will be performed. "Maybe a half." She states. "We're looking to do half and half in the shows." She explains. "Half comparatively new and half back catalogue – and there's a lot to choose from. We keep chopping and changing, but we always have to do [All Around My] Hat."
"As it's also the anniversary of the Peterloo Massacre, we may be doing Ned Ludd." (a five-section opus composed by former bassist and Maddy's ex Rick Kemp).
Rick finally left the band in 2016. "He hasn't retired though," Maddy is quick to point out. "He does his own solo show and he's a really great singer."
And there may be some surprises along the way. "Yes, we're doing The Barbican in London at the end of the tour and I think that Peter [Knight] is coming and maybe Martin [Carthy] and John [Kirkpatrick]."
And even after 50 years, Maddy's desire to perform Steeleye Span music is undiminished and is looking forward to this tour. "Yes, absolutely. 50 years is not to be denied."
And the future?
"A rest." She laughs. "We've also got more tours next year and a Carnival Band (Maddy's other band) tour. We've got plenty of work ahead."
Steeleye Span's 50th anniversary tour will be coming to The Apex, Bury St Edmunds on Monday 2nd December. Tickets are available from www.theapex.co.uk, or ring the Box Office on 01284 758000.
Martin Hutchinson.