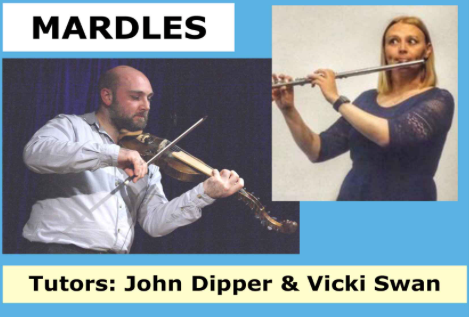 Mardles Community Folk Orchestra Workshop Day: English, French, Scottish and Swedish dance tunes
DATE
Saturday 9th December 2023 TIME: 10.00am - 4.30pm
VENUE
Bungay Community Centre, Old Grammar Lane, Bungay, Suffolk, NR35 1PU
TUTORS
John Dipper, Vicki Swan
Fun, friendly and welcoming workshops catering for any instrument, led by experienced professional musicians John Dipper and Vicki Swan. The day offers an inspirational mix of tutored small group learning, and an opportunity for everyone to learn and play together.
Explore English, French, Scottish and Swedish dance tunes for ceilidhs and social dances.
Learn how to work out harmonies and accompaniments to enrich and enhance your playing.
Tunes will be learnt by ear, with sheet music available during the day.
Open to any instrument, and to both experienced and less experienced players.
Transposing instruments, such as clarinet, will need to play at concert pitch.


BOOKING A PLACE
Cost per person: £30.00 (lunch is not provided). Places limited.
Please email Peter at This email address is being protected from spambots. You need JavaScript enabled to view it. if you would like to book a place. Please phone 07814110784 if you're unsure whether this workshop day is suitable for you, or have any questions.
DRINKS
There are hot drink-making facilities close to each workshop space. Tea/Coffee will be available on your arrival and also during the day.
LUNCH
Lunch is not provided or available at the venue. Please bring your own lunch; or alternatively you could buy your lunch locally. Bungay has various cafes. Nearest pub is the Fleece Inn in the town centre. There is a large Co-op a few minutes drive/short walk from the Community Centre.
PROGRAMME (exact timings during the day may vary slightly)

9.30 - 10.00 Arrival and Registrations/Tea & Coffee

10.00 - 12.30 Split into two instrumental groups for workshops in the Lecture Room and West Hall

12.30 - 2.00 LUNCH (plenty of time for breakout sessions, socialising, and to explore the town)

2.00 – 4.30 Everyone playing together in the West Hall, including performance of tunes learnt

STALLS to meet and explore, instruments to try, buy or simply to discover

Alex Bartholomew East Anglian Traditional Music Trust www.eatmt.org.uk

Jim Parr Handmade folk and early bagpipes, and shawms This email address is being protected from spambots. You need JavaScript enabled to view it. (email)

Rod Ward Traditional handmade violins, violas and cellos www.wardviolins.com

WORKSHOP VENUE: Bungay Community Centre
It is a purpose built multi-purpose community centre that opened in 2021 on the site of the old Grammar school playing field. The building is fully compliant with the requirements of the Disability Act (1995).
We will be using the West Hall and the Lecture Room for the small group workshop sessions. These two spaces are separated by the East Hall which can be used for breakout playing sessions at lunchtime. In the afternoon we will just be using the West Hall, as it's the larger space.
To reach the the main entrance from the car park walk down the left hand path. If you are bringing a large instrument, you can easily access the West Hall via the outer kitchen door that faces the car park.
PARKING
Free parking on site with electric charging points. Provision for people with mobility issues. Overspill parking may be available at Bungay Medical Centre, a few mins walk from the community centre.


TRAVEL INFORMATION & DIRECTIONS
CAR: Old Grammar Lane is accessed from the B1062/Hillside Road West. The community centre is next to the Fire Station and Medical Centre. The car park is on the right as you turn into Old Grammar Lane.
TRAIN: Nearest train station is Beccles, on the Ipswich/Lowestoft line.
BUS: From Norwich: www.firstbus.co.uk/norfolk-suffolk/routes-and-maps/network-norwich/charcoal-line-40-41. From Yarmouth/Diss/Beccles: 580 Diss/Beccles/Yarmouth (limited service) www.border-bus.co.uk.
TAXI: Goldline 01502 711611, Kim's Kabs 01502 712213, Waveney Taxis 01502 733733.
LOCAL INFORMATION: www.visitbungay.co.uk
Bungay is an historic medieval market town in the Waveney Valley, some 15 miles from Norwich and 7 miles from Beccles. Accessible by river, the town has a castle (remains of), numerous small independent shops, and hosts an annual festival celebrating the famous local legend of Black Shuck.

WHERE TO STAY: some ideas
Hotels or B&B: www.thesuffolkcoast.co.uk/suffolk-coast-towns-and-villages/bungay.
Glamping: www.dawnchorusholidays.com
Camping & Caravans: www.outneymeadow.co.uk
Self Catering: www.suffolk-secrets.co.uk/the-suffolk-countryside/beccles-cottages/then-the-hen-hous

Information correct as of 13/10/2023