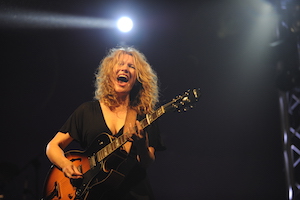 BATB Promotions closes its 2019 programme in Maldon with a VERY special treat - charismatic and hugely-talented American singer and guitarist, Lisa Mills. Mills, born and raised in Mississippi state and currently resident in Mobile Alabama, is not only a fantastic songwriter, a terrific guitarist and a wonderful, warm, live performer, she has a voice to die for. It's one of those sharp, soulful, slightly raspy Southern American voices that wraps itself as easily around old blues tunes, jazz standards, country songs or soul classics, so expect to hear a bit of each.
It's also a voice which has led her to perform worldwide and to share stages with some huge names from the world of blues and rock, including Led Zeppelin's Robert Plant and New Orleans legend the late Dr John, both of whom were fulsome in their praise. Plant later said: "You should all check her out, she has a wonderful voice..."She'll be playing in the intimate setting of The Long Room at the Blue Boar, in Silver Street, Maldon, on Friday, November 8, in the latest of a string of shows over the past year by acclaimed blues and Americana artists.
Promoter, Burnham musician Tim Aves said: "I've had the good fortune to hear Lisa perform a few times - and even, on one memorable occasion, to share a stage with her.
"I have to say she is one of the very best, most engaging singers I have ever seen or heard, in any genre. I tried to book her for this year's Blues at the Barns festival, but she was touring elsewhere (Australia I think), so as soon as I heard she was coming to Europe this autumn, I grabbed the chance to book her for the Blue Boar."Advance tickets for the show are £12 and on sale now from BATB Promotions. Subject to availability they will also be available on the door. To order yours, email This email address is being protected from spambots. You need JavaScript enabled to view it. , or call 07979 601197. Doors open at 8.30pm with the music expected to start at about 9pm. The venue has a limited capacity so advance booking is advised.
For more information about Lisa Mills, along with video and audio clips, visit www./lisamills.comk