(for those with a finger on the pulse)
Ramblings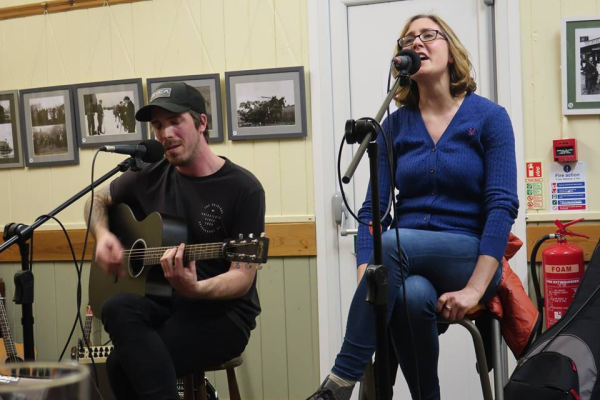 Steve Eamer and Suze Close We've noticed a drop off in attendance at some venues in recent times, some of it maybe to do with the uncertain economic climate in which we live, and maybe because it can be difficult to ascertain what's going on where at the moment. As it happens and fortuitously our information and data correspondent Vince Matthews has been updating a gig list for general use and we are able to bring you exclusive access to his deliberations, aided by reference to Mardles, Adrian from King's Lynn and Philippa from Suffolk and various snippetts gleaned on the way.
June Thaine dropped us a line today to remind us about the Suffolk Song and Ale. For those of you partial to a good sing just a reminder that it will be the third Suffolk Song & Ale weekend 17th - 19th May. For further details please phone Mike Acott or Bec on 01728 768128 or email This email address is being protected from spambots. You need JavaScript enabled to view it.. Having been ourselves on previous occasions, it is held in a modern hall and playing field area in Hatcheston in Suffolk with meals available. A good start to the season.
There are always surprises to be found in those enterprising types who can't resist the urge to put on events, and such is the case when earlier in the year we heard Paul Marfleet performing at a Fisher Folk night in Bungay. A very accomplished guitarist and vocalist, he contacted us to ask whether we would like to be part of an Air Ambulance charity night at Cratfield village hall. Now, having in the past struggled to find the Cratfield Poacher in the dark, we are fairly sure there are people who live in Cratfield who don't know the whereabouts of the village hall. Google maps weren't very encouraging either since they showed a white area with the pointer in the middle. Arriving there was a reasonable audience, nothing spectacular but as the evening wore on the locals turned out, so take a bow Paul Marfleet and Peter Baker, Louise Eden Blues Band, Steve Evans and Philippa Dent, Richard Harvey with Mark J. Reeve and Mia Teff (the Cheeseroom Collective), the Skylark duo Steve Eamer & Suze Close, Chris Gillings - spectacular harmonuica player/singer - and Rosewood (Simon Haines, Phil Lyons and Val Woollard). How Paul amassed this array of talent in an unpromising location on a chilly night is a mystery, but success it undoubtedly was.
Another recent venture inspired by Hazel Douglas and Val Leggett, together with Jill Parson, sponsored by Mardles, was a one day workshop essentially for squeezebox players but not excluding other instruments, held at St Luke's church centre Norwich. The sessions were let by Anahatta and Mary Humphreys ably supported by a couple of players from the aforementioned Rosewood. A well attended day with opportunities to explore slow tunes and harmonies and all must be congratulated for bringing this event to Norwich.
The monthly sessions at Flitcham organised by Roger Young are well worth mentioning, showcasing local talented people. For details of these it's certainly worth contacting This email address is being protected from spambots. You need JavaScript enabled to view it. Like all good chief executives Roger has been planning his succession and as with the Wolf folk club at Wolferton, Steve Smith, Lin and Ian Miller, and Kevin and Bernadette Savage have been shouldering some of the compering of evenings. Hopefully they will become more involved with the behind-the-scenes organising as well.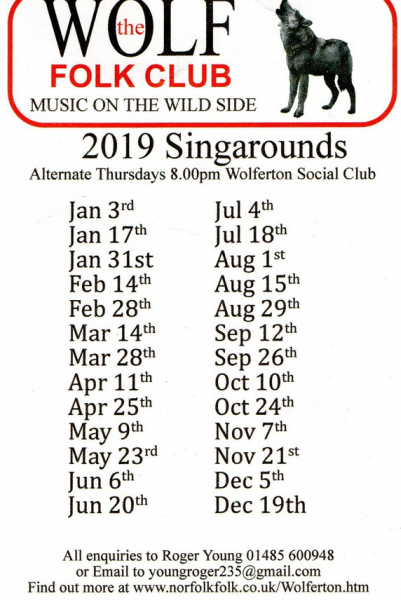 This is an opportunity to give the Wolf dates and as summer approaches an excellent opportunity for you to spread your wings.
Flying Folk for May As some of you may be aware Geoff Roberts has been a bit offcolour of late but Emma Williamson undertook the corralling of theplayers in his stead at the Swan at Ringland last month (a challengingenvironment, but then we're a sturdy bunch).To encourage Geoff in his recovery you could consider turning out to the Swan at Stalham on 25th May where there is always a warm welcome and buffet provided. Emma will probably in the hot seat again so a chance to hear a fine performer in her own right.A little while back Damien Barber undertook a gig at Norwich folk club and while it is the first solo he has undertaken for a number ofyears there was a rare chance to see him on stage with his dad. Talkabout chip off the old block.

There was also a cameo slot for Tony Hall who proved (as he did atThere was also a cameo slot for Tony Hall who proved (as he did atFlitcham earlier in the year ) that he is a fund of straight andhumourous songs and a comprehensive command of the English vernacular.

Roger Gamble will be at the Norwich Folk Club on 20th June. Don'tmiss the chance to see this seasoned performer with a wide range of songs and one of the few chances to hear this cracking artist.

In Suffolk David Clarke has recently started a session in the Butcher's Arms Knodishall on the third Monday evening of the month. If you are in the area your support would be much appreciated.Likewise the Monday afternoons at Blaxhall Ship is a rollicking good place to be. If you like a really good folk session the third Wednesdayplace to be. If you like a really good folk session the third Wednesday evening at the Ship is worthy of your attendance.

Andy Wells tell us that the Rose session every Monday in TrinityStreet Norwich is bowling along very well having celebrated its third birthday. Whistles, cello, melodeons - a proper mix with something foreveryone.
Last night was a first for us in the shape guise of the Irish session atthe Gate House, Dereham Road, Norwich featuring some intenseUilleann pipe playing, a couple of fiddles, whistles, concertina andMarya playing guitar. A must for people who go for that sort of thing.A short distance away Marya's other two partners in Tin River,Miriam (whistles) and Skip (melodeon) were playing in Tony Hall's gigat the Reindeer. Alistaire played the small pipes, additionally therewas some fine banjo and guitar work. There were some spotperformers but Tony himself was absent since he'd just had a newknee joint and is recovering. Both these events every Weds.
A quartet of photos from a recent evening at Sheringham from theA quartet of photos from a recent evening at Sheringham from thesecond Wednesday at the Tyneside.Aside from Banquo's ghost in the backgroud the last photo features Diand Les who are returning to Norfolk after an 11 year exile inCumbria. Two fine performers who would grace any music event.Well must be off, hope to see you somewhere soon.