for those with their finger on the pulse
New Year's Greetings.
The turn of the year bought welcome news for those with poor sight for it is the year of 2020. What a universal blessing that will be.
Harking back to 2019 we would just like to point out that the CD produced at the Eel's Foot in Eastbridge in aid of the Minsmere bird reserve is now available from the pub for the princely sum of £8. (Or ask us and we will be happy to procure one for you.)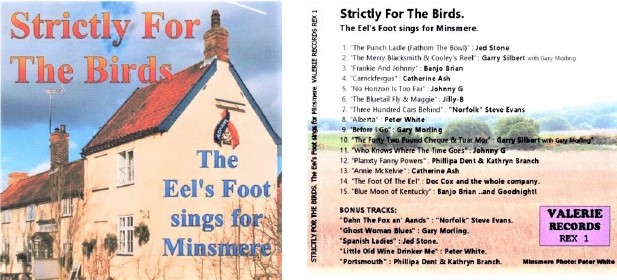 Produced and directed by Doc Cox with typical Yorkshire generosity. Who could have believed that the county of deep pockets and short arms was capable of such a polished production?
Through the wonders of modern technology we have managed to reproduce the front and back covers of the CD. Led by Doc's number "The Foot of the Eel" (work it out yourselves), the company drives it along like a 4-6-2, up to the mark, with 14 on, thundering up Shap summit. Buy now to avoid disappointment, £8 for one or the special price of five for £40.
Ramblings
We started the year with a trip to North Elmham King's Head on the first Sunday in January. Jenny Cunningham excelled herself with a change of format designed to put newcomers at the front and centre of the evening. With a pianist backing the local performers, each one of them had the chance to sing two numbers. Later when they had got their breath back they were able to have another go in the second half. The polished duo of Joe and Mary had a twenty minute slot after this. Certainly got people talking!!
Next up was the Rose in Trinity Street in Norwich on the first Monday. Always variety here with fiddle, banjo, cello, piano accordion and melodeon in the instrument section. Peter Coleman blasting away on vocals and Molly Barrett with that repertoire stretching to infinity backed up by a fine voice. Over the nearly forty years we have known her, her health hasn't dealt her the best hand but the clarity and delivery of her work has not altered.
We have no hesitation in suggesting you put the Rose on your calendar.
On the Monday just gone, James (he'll have to be James II as we've already got one) joined the happy throng and after some cajoling produced an Irish wooden flute. A whole new vista opened up. Music files attached on email with this. (The snacks provided by the pub went up a step the last two weeks. Something must be going right.)
Tuesday saw us back at the Angel, Swanton Morley, with a welcome return to Roger from King's Lynn and Fred and Linda with her concertina making a rare appearance. She and John Mathews were able to hook up to do a sort of concertina duo. The evening was run by Kevin Green and we hope that he will join the rota on a regular basis. Saw Chris and Roger Gamble as well. Roger brought up "Joshua Gone Barbados" which we all love to join in with. Vivian was on hand to give us a couple of his Victorian/Edwardian songs. One can never be sure that he wasn't around when they were composed. Coming up on the rails these days, Tina (vocals/ukulele) and Paul (mandolin) have been putting hard work into their playing and singing. We're pretty sure they must be pleased with the results. Vince and Joan Matthews always give of their best so SM is definitely a must on the calendar and the sandwiches and chips are a wondrous plus.
Wednesday found us together with John Mathews at the Tyneside club in Sheringham. Peter Sanpher keeps everything going above and beyond the call of duty. As usual you can rely on Sue and Max journeying from Weybourne to add some bottom to the evening. Carol, shepherded by her brilliant guitar playing tutor Myke, demonstrates that persistence pays off in the end. She's not above laughing at herself when things go pear-shaped and that places her above the more talented pot-sure in our estimation. Ervin has returned to the fold, and now his voice has broken has a very pleasurable delivery.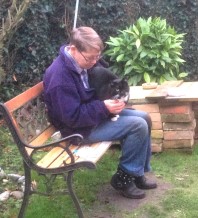 Thursday saw us back at the Foot with all the usual gang plus a passing couple on guitar and piano accordion. With the chap providing the vocals, the accordion "drone" was rather special. We spotted Paul Marfleet from Cratfield accompanying himself on guitar with two of his own numbers.
Doc and Jilly have a rather special relationship (and the scars to prove it) with a one eyed feral cat in Westleton. Doc had penned a song about it, performed in the style of David Bowie's "Life on Mars" which brought the house down.
The cat in uncharactistically docile mood with Jilly B.
Friday found us at Norwich Folk Club which was very busy, too many to mention, except for Chris from Northampton whose command and tone engenders envy and admiration in our breast in equal measure.
Other noteworthy people we have heard recently have included Dave Robertson (Caister Men Never Turn Back), Christine Jenner (John Barleycorn), Peter Mayne (The Green Cockade – still plenty of colours left to choose from), Max Webber (Penny for the Plough Boy), Kevin Green (A Harvey Andrews number) and Johnny Walker (Country Roads).
Venues for visiting shortly include
Flying Folk Saturday 18th The Rose and Crown, Frettenham
Sunday 19th The Red Hart, Bodham from 3pm. Tony Baylis's recently relocated gig from the Maltings at Weybourne.
Also Sunday 19th the Harbour Inn at Southwold from 8pm.
David Clarke's session on the third Monday at the Butcher's Arms, Knodishall
and still one of our all time favourites the last Saturday of the month at the Crab & Winkle, Brick Lane, Framlingham.
Obviously there are many more out there and we (Vince and I that is) are hoping to update our comprehensive list for our next edition.
If you know of any venues that are now defunct or you would like to be added please let us know at This email address is being protected from spambots. You need JavaScript enabled to view it.
Ta ta for now.