If you are going to Folk East this coming weekend (17-19 August at Glemham Hall), you may be looking forward to seeing nationally known acts such as The Oyster Band, or The Young'uns or local acts like Harbour Lights Trio or Capstan Full Strength. But whoever else you see, try not to miss Kath Tait, a singer-songwriter originally from New Zealand but now from London. You may have seen her last year on the Hadleigh Folk Club stage. This year she's appearing twice, first of all on the Broad Roots stage at 2.55 - 3.40 on Saturday afternoon and secondly, back by popular demand on the Hadleigh Folk Club stage (also Broad Roots) at 11.20 on Sunday morning. I predict you'll want to see both her performances.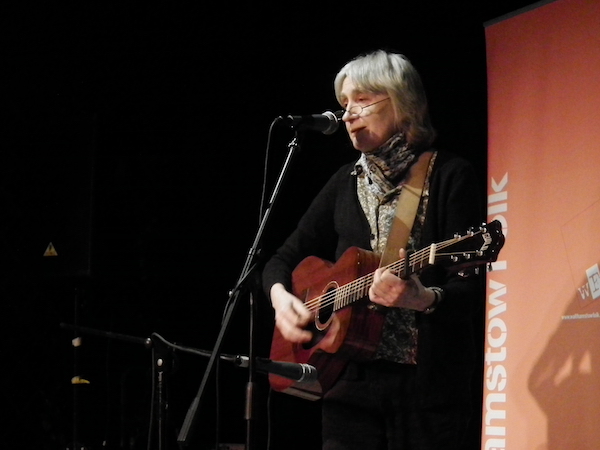 Here is an article I wrote about Kath for Living Tradition Magazine a couple of years ago.



Kath Tait - Diva of the Dysfunctional
Simon Haines
Kath Tait is not the easiest singer to track down, but tracking her down is well worth the effort. Refreshingly, she seems quite content to be below the radar. I came across her in a rather roundabout way: at a folk club one of the guests sang two of Kath's songs: Poor Dim Sally, about a young girl who gets taken in by the Moonies, but eventually forms her own religion; and The Right Time of Year which gives women advice about when it's best to leave their husband – it turns out there isn't a right time.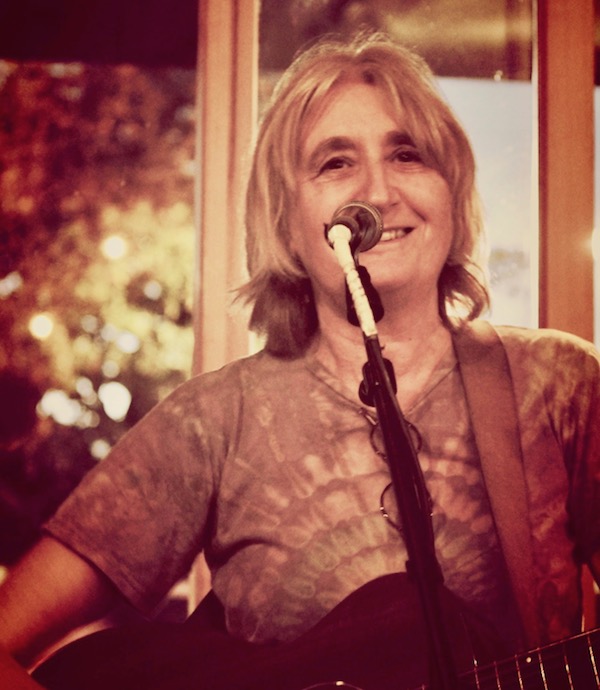 Kath was born and brought up in New Zealand and sings a poignant song about planning to return there to die when she's 93. She now lives in London and has a day job looking after old ladies in their homes and sings mainly for pleasure. How did she end up in England?
I decided to go travelling - as you do. Everyone said 'don't get stuck in London'. So I came to London and got stuck here. That was 40 years ago.
To be honest, my singing has not been what you'd call a career. There's been a steady trickle of gigs, mainly to audiences of 7 in the back room at the local. And I've had hundreds of day jobs. The singing and song-writing is more of an obsession or an addiction, I think.
When I was young, I couldn't concentrate on anything but songs. I got lost in a dream world. Discovered Woody Guthrie. Hopped a freight train to Rotorua and hitch hiked-home with a broken ankle and a black eye. Started writing songs while recovering in hospital. I wanted to emulate the great songwriters of the day, but the songs came out all wrong - sort of wonky and eccentric."
For me, Kath has emulated some of the great songwriters, but "wonky and eccentric" is the perfect description of her performances and many of her songs. She introduces her song Strangers and Foreigners, for example, like this: "My first husband was a fascist and died of spontaneous combustion." The first verse goes like this:
Lots of people think, when they own their own homes,
That they can keep the immigrants out of their living zones.
Strangers and foreigners are everywhere
But they don't bother me, no I don't care.
If you look at yourself you just might find
A stranger or a foreigner in your own mind.
So be kind to yourself and have some care
For strangers and foreigners everywhere.
Another, The Hole in the Hedge, tells of the passionate relations between neighbours. Again the first verse gives a flavour:
She snuck through the hole in the hedge
So she could visit her neighbour's husband.
She got through the window and into his bed
And they flopped around like two fish out of water.
Then she came home to her own dear one
Who stood there solemnly watering cabbages.
He'd not an inkling of what she had done
But her mind was full of love's rampant ravages.
Her song Lentils gently mocks her younger self (I think)
Life was cheap, our thoughts were deep,
We did not wash for forty weeks.
We ate the brown rice and the lentils,
We thought we were so existential.
We did not weep, we took a leap
To the bottom of the social heap.
The view was clearer than from the top,
Our wisdom flourished, our wealth did not.
Social realism and the ironies of human behaviour are the subjects she finds most interesting. She says: "The human condition is quite ridiculous and extremely comical. But also quite profound."
Some of Kath's songs are probably autobiographical. In her moving song, The River of Life, she muses about what her life could have been like. The Childless Mother is about how she grew up in a wild, natural part of New Zealand.
I was born way down in a valley,
I was born in a valley so small,
Far away from civilisation,
Hardly knew the wide world at all.
When I was a child I played by the river,
I played in the river so wild
Then I grew up to be a childless mother,
Childless mother and a motherless child.
In the case of other songs, we're never quite sure - songs like The Cyclist from Hell:
I cycle bravely and I cycle without fear,
I cycle with the sounds of road rage ringing in my ear.
Cycle for the planet, cycle for the trees,
Cycle so that we can have, more fresh air to breathe.
But mostly I just cycle cause I can't afford a car,
Can't afford a bloody car and walking is too far.
Audiences react in a range of different ways to Kath's songs. There is always plenty of warm-hearted laughter, but sometimes this is mixed with embarrassment or even shock. This may be because of the apparent mismatch people perceive between her appearance, the subject matter of her songs, and her skill as a singer and musician – she accompanies herself expertly on guitar, concertina and harmonica. I asked her about her image. "If you're referring to what I look like, I'm not aware of having any kind of image. I used to wear crimpolene suits on stage but they gave me a nasty rash. Sometimes I wear an eccentric hat. That's all. If you're referring to the "deadpan Buster Keaton" approach, it's not deliberate. It's just me struggling to play and sing and concentrating on what I'm doing, because I find it quite hard.
Personally I find her whole performance hilarious, but also very strangely moving – I'm never too far from tears. According to Kath, this reaction is not uncommon and is no accident: "My songs are deliberately bitter/sweet. It's the juxtaposition of the ridiculous and the profound. You don't know whether to rejoice or shoot yourself. I have a dark sense of humour. There are some lines in my songs that I find gut-wrenchingly hilarious, but nobody laughs."
Then there's the shock element. The mention of "golden showers" in her song about the life of a prostitute caused a mixture of mild amusement, hilarity and embarrassed shock at one of her recent gigs. When I asked Kath whether she ever got complaints, her reply demonstrates her absolutely sane, balanced view of the world and human nature.
"People like to be shocked. It's good for their circulation. Even if they complain about it, I still think they secretly like it. And I do get complaints sometimes. But I'm one of those people who likes to be naughty every now and then. Life gets boring if it's always clean and shiny and wholesome. And, to keep things in perspective, you get people chopping each others heads off, murdering babies etc in traditional songs. "Golden showers" is harmless compared to that sort of stuff."
I wondered finally what Kath gets out of singing in public. "I sing because it calms me down and because it keeps the neighbours from getting too friendly. But also because song are a powerful medium.
She says she came to England because "English people have always encouraged me. Even in New Zealand it was the English who picked up on the humour and individuality of my songs and pointed me more in that direction. I'm a bit of a musical curiosity. You can be one of those in England."
So what type of gigs does Kath get to do? Quite a variety it seems. "I perform at Folk music venues when I get invited, but otherwise I play at Poetry clubs, Acoustic clubs and Community events. Last week I did a gig in a telephone box and got a full house. I've also performed outside the Royal Albert Hall and the Sydney Opera House, and I still like doing floor spots.
Would she like to do more? "Oh well," she says. "I wouldn't mind a few more gigs … but not too many. I wouldn't like to get over-exposed."
At the end of her gigs audiences are sometimes left wondering, among other things, how many times she's been married. In answer to my question "How long do you practise before a gig?" she replied: "Not long enough, unfortunately. My 8th husband shot himself during one of my rehearsals, so I don't like to go on too long in case there are any more casualties."
Get to see Kath if you can – you won't be disappointed. In the meantime, you can find the lyrics of twenty-three of her songs are on her website: Kath Tait. And there are wonderful versions of her songs Bastard (Bastard The Movie) (https://youtu.be/xoRFS70uK0c) and Lentils (https://youtu.be/IFUiO-DkAwk) on You Tube.