by Simon Haines and George Monger

I looked East and I looked West, was the title of a weekend to celebrate the life and music of Julia Clifford, organised by Katie and John Howson and held at the John Peel Centre in Stowmarket on the weekend of 26-28 April.
I was not able to attend the whole weekend, so this is necessarily a partial – in both senses of the word - account of what went on.
Julia Clifford (1914-1997), was a wonderful fiddle player born into a musical family in Lisheen, Co. Kerry, in an area known as Sliabh Luachra, renowned for its poets and traditional musicians. Through seminal recordings made in the 1970s, Julia and her brother Denis Murphy helped define what is now a well-known genre of Irish traditional music. Julia and her husband John Clifford, also a musician, had been living in London since the 1940s, but shortly after the recordings came out, they moved out to Thetford in Norfolk, and as far as publically available information goes, they all but disappeared from view. However, this period, and especially after 1981 when John died, was actually a busy period of music-making for Julia, with a younger generation of enthusiasts and a new audience on the English folk scene.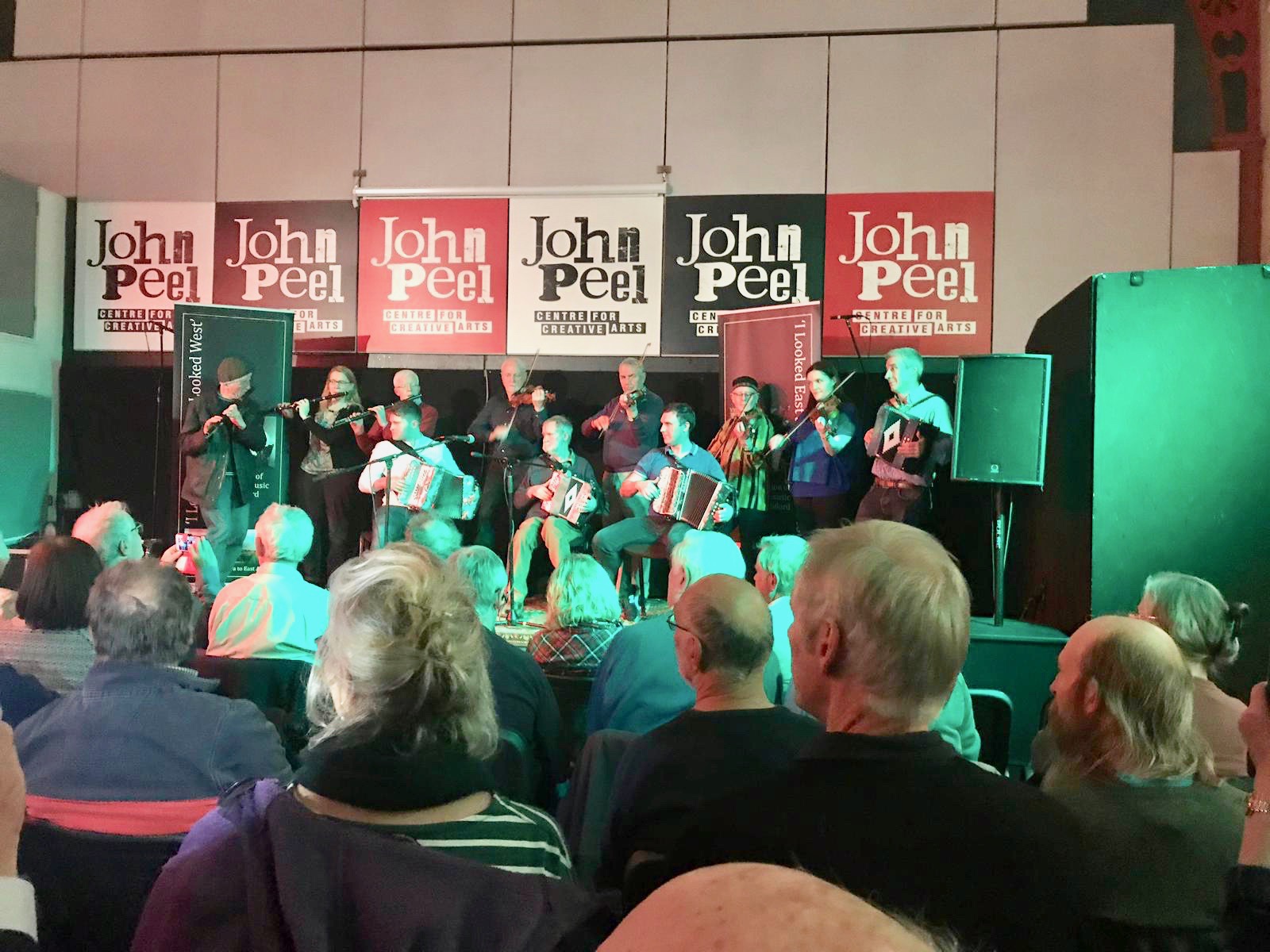 Katie Howson had painstakingly invited musicians from Ireland as well as English people who knew Julia to contribute to the weekend. There was a fantastic line-up of guests, all very keen to be involved! Julia's son Billy Clifford (flute), Matt Cranitch (fiddle), Jackie Daly (accordion), Bryan O'Leary (accordion), Gerry Harrington (fiddle), Jerry O'Reilly (set dance) Aoife Ni Chaoímh and Paudie O'Connor (fiddle and accordion) and Connie O'Connell and John Coakley (both fiddle-players), all travelled over from Ireland, supported by many wonderful English musicians. There is more detailed information about these musicians here: https://katiehowson.co.uk/i-looked-east-and-i-looked-west/artists
So on to the weekend. On the Friday evening, the official opening and reception took place in St Peter's Hall next to the John Peel Centre. A few words were said and then we were treated to a fascinating film of Julia Clifford playing. The hall also housed a fascinating exhibition of memorabilia relating to Julia and her time in East Anglia. There followed a packed-out music session in The Royal William pub.
On Saturday morning, together with twenty or so others, I went to a Sliabh Luachra music workshop with Jackie Daly and Connie O'Connell. Between them they taught us half a dozen great tunes from their repertoire in a relaxed but thoroughly professional way. Jackie Daly does love his jokes, but he also passed on some great tips. I'd been wondering whether to take my trusty D/G melodeon / accordion or my new and relatively untested C#/D box. I chose the former, but in the end it didn't matter. Some of the tunes were in D and others were in A, quite a challenge for me. But miraculously I managed, and determined to play more in "unnatural" keys from now on.
In the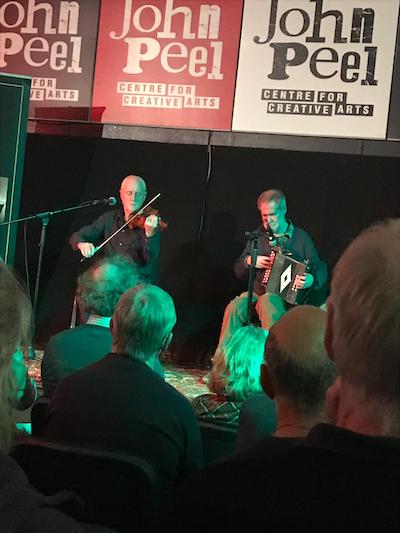 afternoon we caught the end of a fiddle concert and the whole of a fascinating talk, "The English Years", in which people who had known Julia and John Clifford spoke informatively and affectionately about her. Among the speakers were Reg Hall, Alan Ward, Michael Kilbane, John Coakley and George Monger.

The main event of the weekend, the Saturday evening concert, was a huge success. Each musician or duo came on stage and played four or five tune sets. Highlights for me were the brilliant young Bryan O'Leary, the grandson of Sliabh Luachra accordion player Johnny O'Leary, Aoife Ni Chaoímh and Paudie O'Connor and of course Matt Cranitch and Jackie Daly. There was also a short set from John Coakley and Aidan Coffey (fiddle and accordion). Everyone who had played came together on stage for a finale. Inevitably there followed another packed out session in The Royal William, this time led by Bryan O'Leary.

There were events on the Sunday, including a visit to the grave of Julia Clifford in Thetford Cemetery, but our guest Aidan Coffey had to fly back to Ireland that afternoon, so I wasn't able to take part in any of the Sunday activities.
The organisation of this weekend was a major achievement by Katie Howson. For people in East Anglia to see and hear Irish music of this calibre and style was incredible. For some inexplicable reason, Irish music doesn't seem to be as generally popular in the UK as it was a few years ago, except in pockets where there are strong Irish populations. We occasionally get to see some of the big names; Sharon Shannon for example, is at Folk East this year as was Beoga last year, but in my humble opinion, these are musicians who have to some extent left their roots behind. The Sliabh Luachra musicians who appeared at this event are thoroughly rooted in the area they are from and in the music from that area. To my mind this is genuine folk music at its best. I hope that we see more events like this in the future.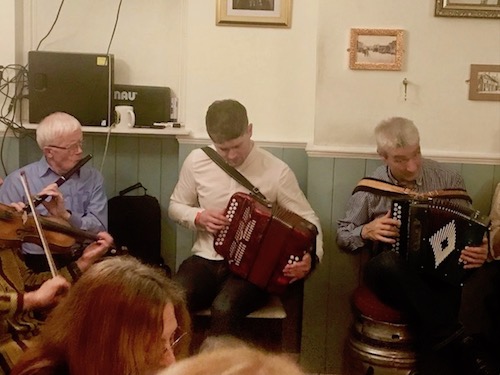 George Monger kindly added the following about the events on Sunday.
The visit to Julia's grave on the Sunday morning was both moving and in a way a joyful event. Soon after we left Stowmarket, the rain started (it also rained on the day of her funeral) but by the time everyone had gathered, it eased off. Julia and John's headstone has a few bars of music carved into it, the music was played and the consensus was that it was a reel version of I Looked East and I Looked West. Billy Clifford said a few words of welcome to everyone there and invited Matt Cranitch to say a few words after which Billy played a slow air on the whistle, after which Gerry Harrington led another air with Billy and Caroline Kilbane. The music concluded with Billy, Gerry Caroline and Eileen Monger playing a Kerry polka. During this time the rain cleared and the sun came out briefly; when the music stopped the clouds began to amass again.
Meanwhile, back at the John Peel Centre an informal concert was taking place featuring Irish and English guests including songs from Peta Webb and Ken Hall. These were followed by hosted sessions at the Royal William and the Walnut Tree.
Katie Howson presented a session of 'Julia in Pictures' followed by a film of Julia at the National Folk Music Festival in 1987 and the launch of a website put together by Caroline and Michael Kilbane of transcriptions of Julia's tunes and recordings of her playing.
For dancers - and much of the Sliabh Luachra music is for dancing - Jerry O'Reilly led workshops on sets from Cork and Kerry in the nearby St. Peter's Church Hall on both days.
The whole event was rounded off with the final concert The Gathering featuring all the Irish and English guests (and a few surprise guests) culminating with all the musicians crowding on stage playing together, whilst Jerry O'Reilly and others danced a set side stage, all finishing, inevitably, with I Looked East and I Looked West.
Coming off stage I had Sheila Ravenscroft (the patron of the Centre) and Jane, the manager enthusing about how fantastic the final concert had been; and indeed it was. The whole event was a wonderful and fitting tribute to a wonderful generous musician who I feel privileged to have known. We certainly felt her presence during the weekend and her memory and music brought together many of old friends and helped forged new friendships.
The very last hurrah, as would be expected, was a final session at the Little Wellington, not quite a full as on Saturday night but still packed.
The events in the John Peel Centre were filmed for the Irish Traditional Music Archive and the event was financially supported by Culture Ireland, Stowmarket Town Council and the many events and Stowmarket businesses who paid for advertising in the commemorative programme.
There is plenty more information about Julia Clifford and Sliabh Luachra music on these webpages:

https://katiehowson.co.uk/i-looked-east-and-i-looked-west
http://cumannluachra.com/julia_clifford_my_life_music_journal_sliabh_luachra_no4?page=1