(for those with a finger on the pulse)
Ramblings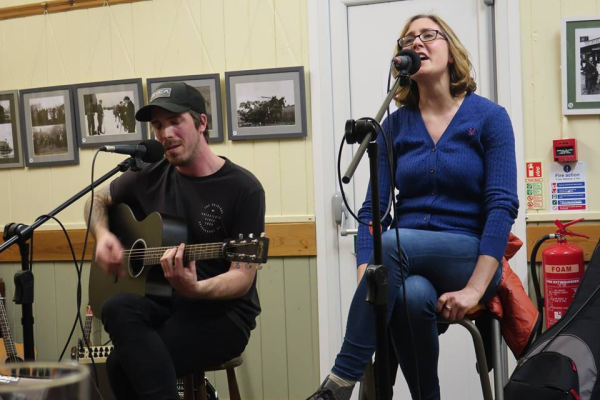 Steve Eamer and Suze Close We've noticed a drop off in attendance at some venues in recent times, some of it maybe to do with the uncertain economic climate in which we live, and maybe because it can be difficult to ascertain what's going on where at the moment. As it happens and fortuitously our information and data correspondent Vince Matthews has been updating a gig list for general use and we are able to bring you exclusive access to his deliberations, aided by reference to Mardles, Adrian from King's Lynn and Philippa from Suffolk and various snippetts gleaned on the way.
by Simon Haines and George Monger

I looked East and I looked West, was the title of a weekend to celebrate the life and music of Julia Clifford, organised by Katie and John Howson and held at the John Peel Centre in Stowmarket on the weekend of 26-28 April.
I was not able to attend the whole weekend, so this is necessarily a partial – in both senses of the word - account of what went on.
Julia Clifford (1914-1997), was a wonderful fiddle player born into a musical family in Lisheen, Co. Kerry, in an area known as Sliabh Luachra, renowned for its poets and traditional musicians. Through seminal recordings made in the 1970s, Julia and her brother Denis Murphy helped define what is now a well-known genre of Irish traditional music. Julia and her husband John Clifford, also a musician, had been living in London since the 1940s, but shortly after the recordings came out, they moved out to Thetford in Norfolk, and as far as publically available information goes, they all but disappeared from view. However, this period, and especially after 1981 when John died, was actually a busy period of music-making for Julia, with a younger generation of enthusiasts and a new audience on the English folk scene.