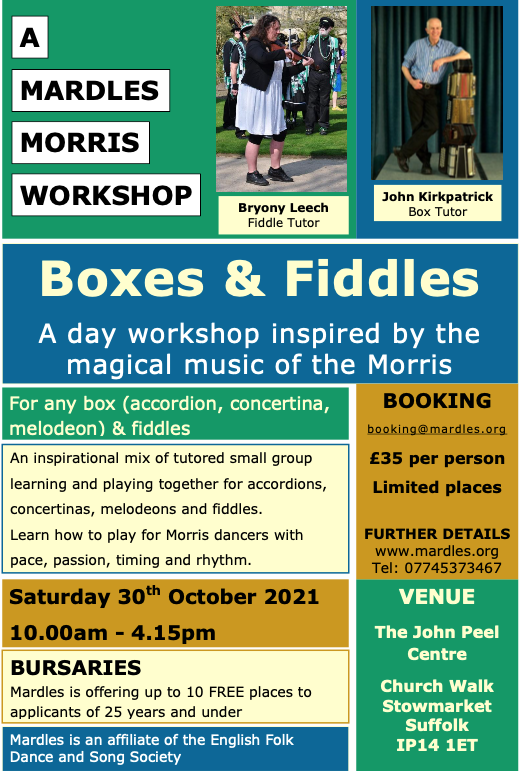 To book a place at this workshop, contact This email address is being protected from spambots. You need JavaScript enabled to view it.
The Tutors
There can be few Morris dancers who have not heard of John Kirkpatrick; but just in case, these notes may ring a few bells. John is our tutor for the "boxes" workshop.
His contribution to folk music was nationally recognised in the 2021 New Year Honours when he was appointed a Member of the Order of the British Empire (MBE). John's particular role in popularising and promoting the music of the Morris has been a central part of this contribution and dates back to, at least, 1959 when he joined Hammersmith Morris Men.
In 1973 he moved to Shropshire and founded the Border Morris side Shropshire Bedlams and his then wife, Sue Harris, formed Martha Roden's Tuppenny Dish. Both sides devised their own individual dances, based on traditional forms and often danced alongside each other; they are now approaching their 50th year and John continues to play for them.
John has recorded more than 40 albums including Morris On and Plain Capers (with Martin Carthy and others). His music has a strong connection with Cotswold Morris in particular but his recordings include a huge range of other traditional English tunes as well as original music, particularly his arrangements for the National Theatre's production of Lark Rise to Candleford.
John has played and recorded with musicians such as Ashley Hutchings, Martin Carthy, Sue Harris, John Tams, Richard Thompson and in bands such as Steeleye Span, Brass Monkey and the Albion Band. He has produced one of the only teaching DVDs for English (D/G) melodeon as well as his 2003 book of traditional tunes, English Choice, with two accompanying CDs. He tours regularly and has often played in East Anglia.
Bryony Leech is our tutor for the fiddle workshop and was recommended by John Kirkpatrick who was aware of her playing at the Sidmouth Folk Festivals
Bryony plays the fiddle for Cotswold Morris side Mad Jacks Morris from Hastings. They were formed in 1976 and have a men's and women's side and are an important part of the big Jack in the Green Festival in Hastings.
She is a teacher and came to prominence when she played the fiddle for Rhys and Owain Boorman, identical twins, who won the John Gasson double jig competition at Sidmouth Folk Festival in August 2015; all three are members of Mad Jacks Morris.
Bryony said: "Although I have been to Sidmouth before, I've not played in the jig competition, and it was quite an experience. I certainly hadn't expected to win three medals!"
"Rhys, who choreographed the double jig, said: "Sidmouth is really big in the folk world, and it was fantastic to win the double jig competition. We are really grateful to Bryony for her superb fiddle playing for us."1
Bryony and Mad Jack dancers Chris Rudd and Rhys Boorman also won another jig competition at Sidmouth in 2018 and she played for Owain who won the solo jig (see the performances at Bryony Leech at Sidmouth Festival 2018 and Bryony Leech at Sidmouth 2015).
Bryony Leech is continuing a folk legacy - her father Keith Leech is the founder of the Jack in the Green Festival and still dances with Mad Jacks. In the past he has taken part in the Sidmouth jig competition himself.
Published: 4th August 2015 hastingsobserver.co.uk
Course Materials
John has provided the following music files which are the tunes he will work on.
John said "I've no idea how well known these are these days, so better to assume not everybody knows them. Shepherds Hey and William and Nancy are obviously Cotswold, and The Big Ship I was thinking we could do in various ways: as a slow dotted hornpipe, suitable for Border style, as a slowish even-time tune suitable for Molly, and as a ranted polka in even time, suitable for North-West".
Bryony will also use these tunes because she feels that "these tunes are great and work perfectly to demonstrate some of the techniques I am planning on teaching in the fiddles section when we break into smaller groups. I am happy to use these tunes rather than sending other ones, it will be easier for people to not have too many different tuned to learn before the workshop".
The tunes below are synthesised versions and sound a bit like a fiddle rather than the ones on the Morris Ring website which sound like they are played on a piano.
Tune 1 - Sheperds' Hey (Ilmington)
Tune 2 - The Big Ship
Tune 3 - William and Nancy (Bledington)
Sheet Music (click on link)