After going to this year's Stepdancing competition at the Blaxhall Ship, and witnessing first hand the brilliant dancing of Doreen West-O'Connor, I decided I'd interview Doreen to find out a bit more about what she does and how she does it. This is my interview with her. (It's obvious, I know, but my questions are in bold type and Doreen's answers are in italics.)  Simon Haines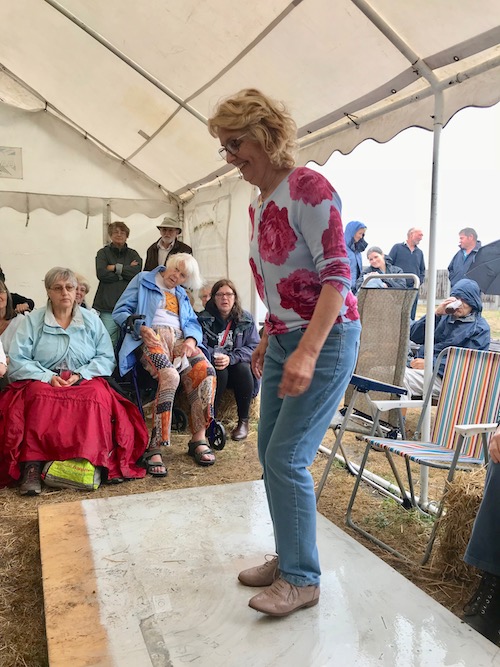 Thanks for agreeing to talk to me Doreen. Can I start by asking you how you would describe the step dancing you do to someone who had never seen it?
Well, it's a free-style dance. I could learn you a basic step and then at the end of the day, obviously when you've learnt that if you like to add something else in to it, then you can.  It's mainly about rhythm – you know. I always say it goes from the head to the feet. You know that's the way I describe it to myself.
Who taught you?
I was self-taught.
But you must have seen someone else doing it, did you?
Yes, I've seen it hundreds and hundreds of times. My husband, Percy, inspired me more than anything - he was such a wonderful dancer. And he'd been dancing since he was eight. He had his own style – most steppers do have their own style.
Born in Palestine, raised in Beccles, Suffolk, Tony, now 75, came upon his first melodeon by accident in the very early 1950s. His Uncle Sam visited from America (yes, Uncle Sam really was his name) staying with Tony, his two brothers, mother and father, and left the family his two-row diatonic Hohner instrument on his return.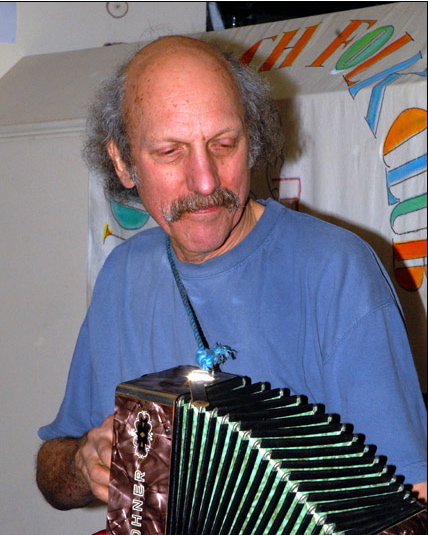 At the time there were no other instruments in the family home, and Tony was the only one to show interest in Uncle Sam's melodeon. He proceeded to teach himself to play by listening to a whole spectrum of music of the day mainly on the wireless, particularly that of Jimmy Shand, developing his own unique style of playing what he heard, unconstrained by academic musical conventions. He says modestly, "I could play the mouth organ, and it was the same system, except for bellows instead of lungs!"
In his own understated way, Tony characterises his style of playing as slow and lazy, while being gentle with the instrument. All of this is true to a degree, but, thanks to his exceptional musicality and supreme talent, he coaxes much more from the instrument than others, 'painting' rhythmic, multi layered musical 'pictures' of melody, counter melody and harmony with both treble and bass ends in a relaxed and apparently effortless manner; it's as if he were playing with two pairs of hands at the very least. And his repertoire doesn't simply comprise English, Scottish, Irish, American and French Canadian folk music either; thanks to his early, eclectic, musical influences he is as adept at playing the likes of the Trumpet Voluntary as the Trumpet Hornpipe, or accompanying himself singing anything from Sea Shanties to South American Blues. On top of this he pens and performs his own well-crafted songs and tunes, the former ranging from the hilarious to the hugely poignant.
Read more: TONY HALL – Revered Melodeon Maestro and Folk Legend!
Alvar Smith - An appreciation by Derek Simpson
Alvar is not quite certain where he was born but he knows that he was born on 23rd August 1942, within the District of Wickham Market. The only child of Florence May and Thomas William Smith, he attended Tunstall School and then The Wickham Market Regional School until the age of fifteen. His father had been a career soldier in The Royal Artillery, and Alvar wanted to follow in his footsteps. However, after a month he had decided that it wasn't the life for him, and asked for a discharge. But the Army's loss was Marlesford Service Station's gain - as that's where he learned his skills as a mechanic. It was at this time he began to take an interest in music; playing guitar and singing in a local rock 'n' roll band The Spiders who performed at village hops.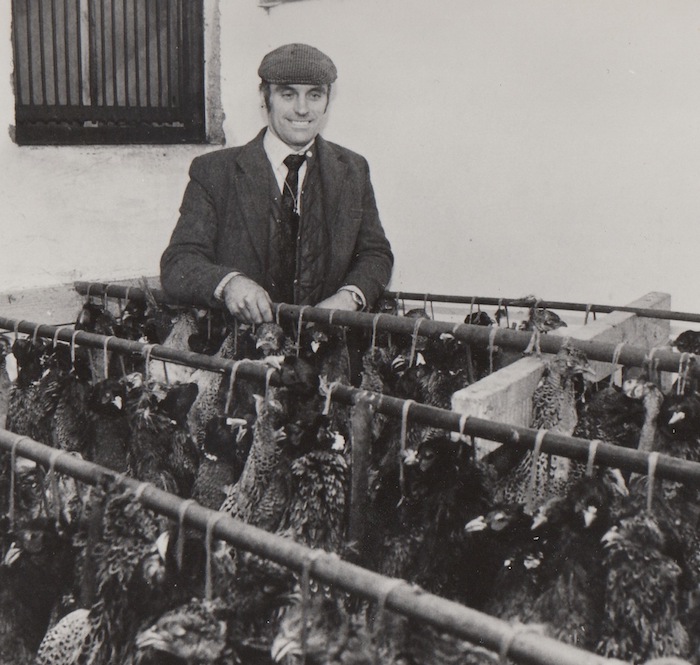 In the early-1970s I lived in Devizes, Wiltshire. It was then that I became interested in folk music and went to my first festival. The year was 1972 and it was the first Chippenham and Lacock Festival - held in the delightfully picturesque village of Lacock. Among the guests I remember well were June Tabor, The Ian Campbell Folk Group and the hilarious John Alderslade, who went on to become the organiser of Trowbridge Village Pump Festival. But for me the star weekend was Tony Rose. After watching his set I decided I had to have a concertina like his. Of course I knew nothing then about the different types of concertina or where one could buy one. Someone told me the best places to look in were junk and antique shops, something I dutifully did wherever I went. There were plenty of ancient, battered one-row melodeons, mostly with leaky bellows and broken reeds, but could I find a concertina?  Finally I did find one in an antique shop in Bath but, at £30, it was out of my price range. In the end I gave up and made do with a a leaky old melodeon my then brother-in-law had bought me one Christmas. After weeks of futile attempts I finally managed to play Monks March - after a fashion.