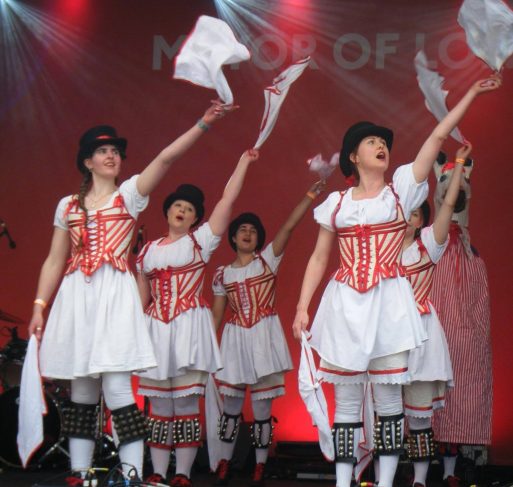 The Belles of London City
The Morris Ring founded in 1934 may not survive to celebrate its 100th birthday as a fundamental change to its constitution is being proposed which will end the "men only" dancer rule.
Adam Garland, recent past Squire of the Ring, wrote in the "Morris Ring Circular" magazine in July last year with his reflections on his two years in office (2014 -16).  He reminded readers that Morris has a long history in England and has evolved during that period.  In the twentieth century the Morris Ring saw itself as the custodian of the Morris tradition but in the twenty-first century, under Adam's leadership, it "permitted" Ring sides to include women musicians and then ensured "that Ring Meetings should be open to all members of all clubs".  Adam argued in his article that the Ring should go further as a "change in the Ring constitution to welcome women dancers as members of the Morris Ring is long overdue".
At the time I wondered why any side with women dancers would want to join the (almost) all male Morris Ring; surely existing sides are happy to join one of the alternative organisations, the Morris Federation or Open Morris and with these alternatives why would a new side want to join the Ring. 
Read more: Belles of London City to join the "Men only" Morris Ring? I don't think so.