Perhaps not as much "hopping" as a Cotswold Morris side might have done but there was certainly plenty of stamping and on this occasion, it was "Stamping the Old Ground", "Nelson's Revenge" and "The Buck" which Old Glory Molly Dancers and Musicians had brought down to Kent. They were the guests of Seven Champions Molly Dancers, famous inhabitants of the Kent Treacle Mines. A strong side of dancers and musicians made the journey although some felt it was a bit too radical to stray outside the natural territories of East Anglia.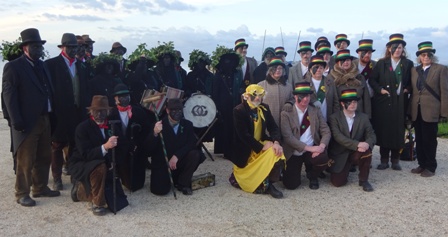 Old Glory and their hosts Seven Champions by the sea in Whitstable
Seven Champions had been to Suffolk in December 2018 and a return trip had been eagerly awaited. It turned out that the Treacle Mines are located in the Whitstable – Faversham area and the first dancing spots were around the harbour in Whitstable. The day was dry and sunny but a cold wind whistled through the docks. A good crowd gathered for the first spot at the so-called Dead Man's Stage and came with us to the Lifeboat Station but later thinned out as dusk approached.
Seven Champs led the way with their strange tales and precise dancing, weaving complex and precise patterns in twos and fours, sixes and eights and sometimes more.
Read more: Hopping Down in Kent - Old Glory visit the Kent Treacle Mines