Press release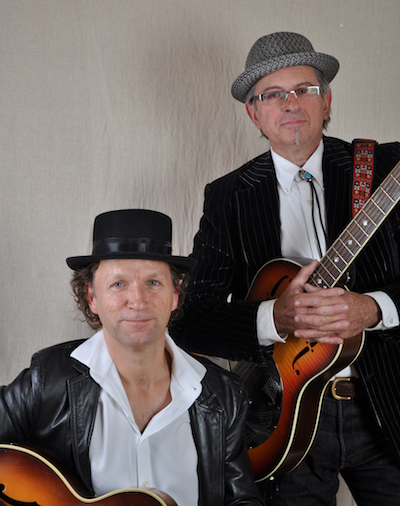 ONE of the most popular acts from the annual Blues at the Barns blues and Americana festival are returning next month to play a special show in Maldon. BATB promotions is bringing international duo Tyzack and Tortora to the Long Room, at Maldon's historic Blue Boar Hotel on Friday, February 1, for the latest of its successful bi-monthly shows at the venue.
Blues at the Barns promoter Tim Aves describes the duo as "great friends of our festival, who also happen to be two of the finest songwriters and instrumentalists on the blues and roots circuit today.
Californian Guy Tortora is a multiple British Blues Awards-nominated songwriter, singer and guitarist with half a dozen fine albums to his name. He appeared with his own band at the very first Blues at the Barns festival in 2016 and returned last year in this fine duo with his friend and fellow musician Ben Tyzack. Tyzack was born in Britain, but was raised in the Southern states of the USA. He sings and plays guitar with the hugely-popular international band, SPIKEdrivers (headliners of the first BATB festival) but has also been performing in the duo with Guy Tortora for the past three years.
Tim said: "Guy and Ben are two of the most talented songwriters and performers I know - and I know a lot of musicians! Both play festivals and clubs all over the UK and continental Europe and we're very lucky to have the chance to bring them to Maldon on February 1.
"This will be our third promotion at the Blue Boar and we're hoping for a full house for this one. We came close in December with Chris Corcoran's trio, but Guy and Ben are absolutely right for this venue. This is truly going be a night to remember."
The gig is in the Long Room, upstairs at the Blue Boar, in Silver Street, Maldon, on Friday, February 1. Doors open at 8pm and admission is £10. The venue has a limited capacity, but places can be reserved in advance by emailing timaves1@gmail.
For more information about Tyzack and Tortora, along with video and audio clips, visit www.spikedrivers.co.uk and guytortora.com

For more information, more pictures, audio for broadcast or press tickets, email This email address is being protected from spambots. You need JavaScript enabled to view it.