New England Appalachian duo coming to Suffolk at The Seagull Theatre on November 16th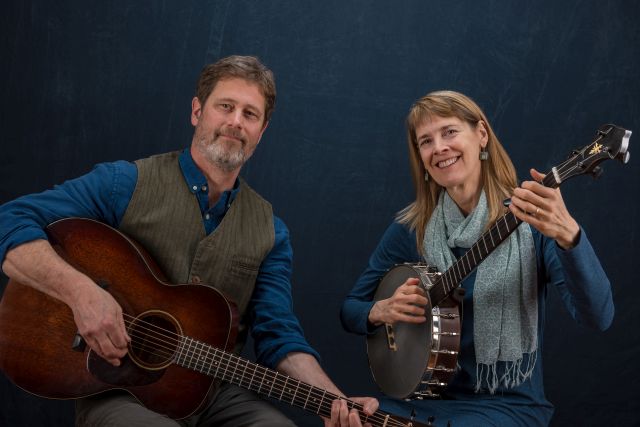 With great vocals and harmonies, guitars, banjo, mandolin and fiddle, Dana & Susan Robinson are wonderful interpreters of the American experience. Their unique blend of song writing and traditional Appalachian music brings to their performances a deep understanding of America's musical heritage.
Though their sound is wholly American, a British thread runs throughout showing the influence of their fruitful years touring the UK folk circuit too.
The genius in a Dana and Susan Robinson performance lies in their ability to take their audience on a road trip across America and convey the mystery and wonder of the places they visit. Underpinning the songs is the undeniable rhythm of their trademark guitar/banjo sound. Whether quiet or driving there is a steady and unrelenting groove that supports the lyric and delivers the story in an effortless and magical way.
Photo: Paul Richardson (c)
Their latest CD, The Town That Music Saved was inspired by The Town That Food Saved by Cabot author Ben Hewitt, about how local food businesses transformed the town of Harwick, Vermont in the 2000s.The album delivers a snapshot of Vermont's vibrant rural life.
" (Dana is) a songwriter with a Guthrie-like ability to show that the seemingly commonplace is full of wonder. Unreservedly recommended." Rock n Reel
"It's just the kind of music-making and song-making that keeps the past alive in the present." Songlines
"The best acoustic fiddle, mandolin and guitar players seem to have an unerring ability to embrace a rhythm. Dana Robinson can do this and, when he does, all you can do is to give him room, step back and smile. He and Susan Robinson, with her beautifully understated way with a banjo or a vocal harmony, are worth traveling distances to see." Maverick Magazine
Asheville Blues: https://www.youtube.com/watch?v=cF6mEC2At6A
The Flying Farmer https://youtu.be/jP1C5fkvjMI
Tickets are priced at £11 (£10 Concessions) and are available from the Seagull Theatre Box office (01502 589726) and online at www.theseagull.co.uk/event/dana-and-susan-robinson/ Starts 8.00 pm
Website https://martello04.wixsite.com/promotions Email This email address is being protected from spambots. You need JavaScript enabled to view it.
Facebook - @MartelloPro Twitter - @MartelloFolk