You are here:  

MAGGIE & STAN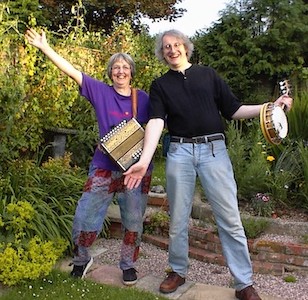 WHAT WE DO
Maggie and Stan hail from Mid-Suffolk. They have been performing together since the mid nineties, playing and singing a wide variety of traditional tunes and songs including traditional folk, music hall and comedy songs. Stan also has a vast repertoire of "specialist" songs, from the 17th century to the modern day, which have to be performed well after the watershed.
However their main loves are the songs, tunes and poetry of Lancashire, particularly those concerning the industrial revolution and the weaving and spinning industries.
LINE-UP
Maggie: melodeons, piano accordion and hammered dulcimer
Stan: guitar, banjo and ukuleles.
WE CAN OFFER
Concert spots - from 30 minutes to full-length pub, folk club
and festival sets.
Private or public events / music and entertainment.
Ceilidhs, English country dances with the popular
ceilidh band, Pluck 'n' Squeeze.
SAMPLES OF OUR MUSIC
• The hole in the elephant's bottom
• Sammy Shuttleworth's Party, Grace Darling and Oh Joe The Boat Is Going Over.
CONTACT
• Phone 01449 722615
• Email This email address is being protected from spambots. You need JavaScript enabled to view it.
• Websites www.plucknsqueeze.co.uk www.maggieandstan.co.uk