Clodagh Chapman who was an original member of Bury Fair (founded in 1977, but originally part of Hageneth Morris) and a founder member of the Haughley Hoofers died in June.  Her funeral will be at the Bury St Edmunds Crematorium in Risby at 9am on Monday 2nd July 2018.  Colourful clothes and Morris kit should be worn to celebrate her 95years.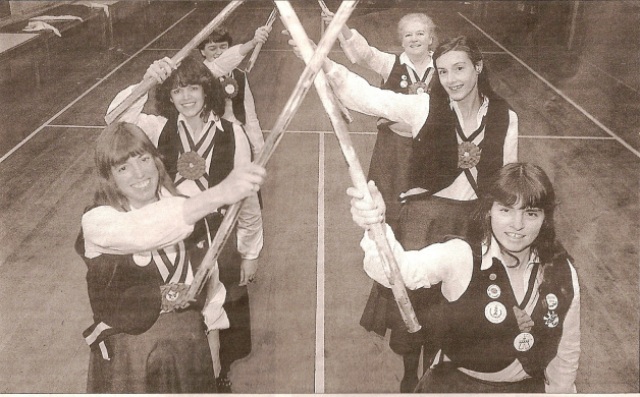 Clodagh (back right) with Bury Fair in 1981
(photo from the East Anglian Daily Times December 2010)
I have known Clodagh since her days with Bury Fair and in 2014 I wrote the piece below for the Mardles Magazine and re-publish it today in her memory.  She is the only person I know who created a dance and an embryonic "tradition".  Like many new dances some worked and some didn't but Clodagh had one big "hit"; Fires of August which is still being danced today by people who have never heard of Clodagh Chapman.  The Suffolk Weaver is still also danced by Bury Fair but has not been picked up by other sides as much.
I saw "Fires of August" (in the "Buxhall tradition") performed four days after she died, not in her memory; no-one dancing it knew she had died.  It was danced because it is a good dance (a bit like Brighton Camp, Stanton Harcourt) and can be made into an entertaining race between musicians and dancers.  Few who dance it will know that it was written by Clodagh in the 1980s.  It was originally performed by Bury Fair but has migrated to Little Egypt Morris Men and Westrafelda and maybe others besides.  Hageneth practiced it and I remember performing it once on the Angel Hill in Bury St Edmunds.  Unfortunately we never mastered it and it disappeared from our programme.  You really need to go to the Little Egypt summer solstice event to see it danced with enthusiasm and at a pace which always impresses the audience.
"It's not just skipping around waving handkerchiefs"- Clodagh Chapman remembers creating dances.
From Mardles Magazine September 2014