Background to the Straw Bear Festival
The Straw Bear is a very old fenland icon which goes back well into the nineteenth century at the very least.  Straw Bear parades took place on Plough Monday, the first Monday after Epiphany or Twelfth Night; the day when local farm workers were supposed to return to their work, ploughing the land.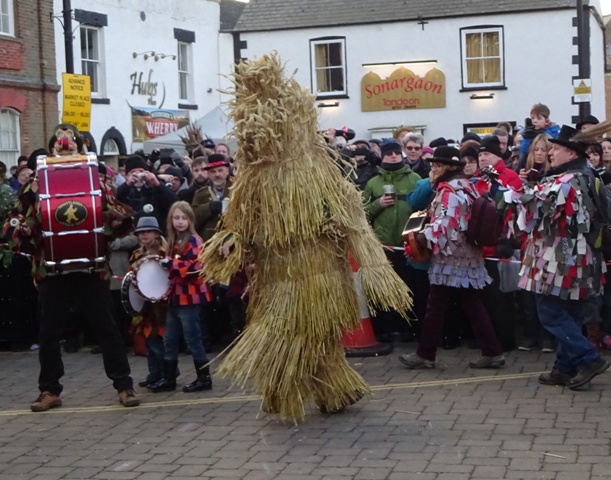 The Straw Bear dances in the Market Place, Whittlesea January 2016
As they had not been working or paid during the Christmas holidays the agricultural workers and "ploughboys" toured the locality to perform molly dances, plough-plays or sing and entertain with acts of "mischief" and would beg for money.  To avoid recognition, they would black their faces to disguise themselves as their aim was essentially to intimidate in order to obtain money: those refusing to donate would have some trick played upon them.  In her book "Fenland Chronicle" (Sybil Marshall, 1963) she recounts that her mother, had told her "very often these were real nasty tricks, and they'd wait until Plough Monday to get their own back on somebody what had done them some injury during the year" for example, they would plough up a doorway or take gates off their hinges so that the livestock escaped.
The Straw Bear is not exclusively a Whittlesea custom and some of the earliest newspaper reports date from 1880 where in Ramsey, a few miles south of Whittlesea there are reports of an "individual dressed from top to toe in straw … (who) capered before the houses … to the merry strains of the accordion". 
Read more: The (new) Whittlesea Straw Bear Festival is 40 years old